2015 BMW i8 High Performance Plug-In Hybrid Sports 2+2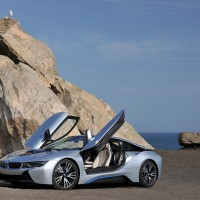 2015 BMW i8 High Performance Plug-In Hybrid Sports 2+2
by Tony Whitney
Several manufacturers of high-end performance sports cars have hinted that they have electric or plug-in hybrid models in the pipeline, but BMW seems to be ahead of the pack with its stunning 2015 i8. The famed Bavarian car-builder already has a foot in the EV door with its i3 hatchback, which is now on sale and, like the i8, represents a new design philosophy for the company.
BMW is no stranger to electric power having created what I thought at the time was a very pleasing little city car — the E1. When I drove the prototype E1 around Munich back in 1991, I regarded it as ready for volume production, but nothing came of it. But the i3 and i8 indicate that far from shelving the notion of EVs, BMW has been hard at work developing exciting products that we're now able to buy.
The i8 is perhaps the most visually distinctive BMW since the M1 limited production supercar of the late 1970s. That was not a great success despite its looks and fewer than 500 were ever sold. BMW does not plan to build the i8 in large numbers, although it should easily sell the 500 a year planned at this time.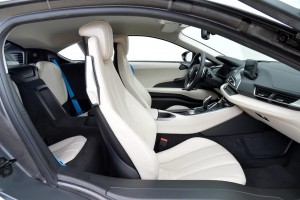 BMW embraces a new design approach with this car and its i3 stablemate which involves intriguing combinations of body color and black paneling (unless you order a black-on-black paint job). The overall effect is very contemporary and of course, the shape of the car is as sleek and slippery as they get. Naturally, the nose incorporates the traditional BMW 'kidney' grille, so everyone will know who built this car as soon as they see one. The doors are a departure, being neither 'gullwing' nor 'scissor pattern.' They're being dubbed 'swan doors' and when they're both opened up, it's easy to see the reason why. They open upwards and outwards, which must have posed quite a problem to whoever designed the hinges.
Perhaps more interesting than the i8's styling is the technology involved in its drivetrain. Basically, this is a plug-in hybrid, which means that although an on-board engine charges the battery when needed, it can be charged by plugging it into a domestic power outlet or one of the public quick chargers that are appearing in many major cities. It's also possible to have a quick charge system set up at home, though this is probably an expensive option. In many ways, plug-in hybrids are the best of all EV worlds because your range is far greater than it would be with a pure electric vehicle.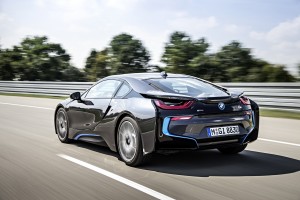 The compact gasoline engine is interesting in that it's a 1.5-litre, three-cylinder twin turbo unit. The electric motor produces 96 kW and when the two power units are combined, they develop a total of 357-horsepower. This is impressive enough to get you to 100 km/h in about 4.4-seconds, according to tests. The electric motor delivers full torque from a standing start, so acceleration seems even more of a thrill than the performance statistics indicate. BMW points out that in overall use, the i8 will match the fuel consumption and emissions of a small sedan. Driving with electric power alone is possible — press the eDrive button on the dash and you power the front wheels. The little petrol engine drives only the rear wheels, but with both motive units in play, you have an all-wheel drive car. There are various selectable modes available to the driver, depending on whether the need is for comfort, sporty performance or maximum economy. I haven't seen an owner's manual for this car yet, but it must be of Biblical proportions! As any manufacturer of electric vehicles will tell you, driving range depends on many factors, including personal driving style, road variations, climate and whether or not ancillaries like air conditioning are in use. BMW claims an all-electric range of 37 km for the i8, which is fine because you have the petrol engine to get you off the hook if the batteries run low.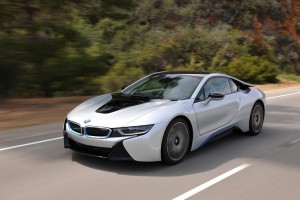 The futuristic interior looks more concept car than production model and it again features a new design language for BMW. The i8 is a 2+2 which means that there are a couple of small seats in the back. They're actually quite usable, partly because the front seatbacks are very slim and don't take as much room as you'd expect. The layout of the instruments and controls is intelligently handled and there's nothing that's hard to reach. The instrument panel is, as might be expected, entirely electronic with a variety of colored screens and readouts to keep you informed of what's going on. There's a reasonable amount of cargo space under the rear hatch and if you really want to splurge, there's an optional set of Louis Vuitton fitted luggage available.
Even if the i8 had a conventional drivetrain with a compact V-8 up front, it would be a very appealing and fascinating car. But with the almost bewildering array of technology it boasts, it's certainly the most intriguing premium sports car on the market right now. And since production is limited, it will always be very exclusive and probably a rare sight out on the roads.
Is the combination of a powerful electric motor and an advanced, innovative gasoline engine the way of the future for this class of supercars? Time will tell how things will develop, but there are certainly a number of upscale car builders watching this product very carefully and perhaps moving on with plans of their own. In the meantime, BMW is out in front with the i8 and promises to be there for quite some time.

In short…
BODY STYLE: 2+2 sports coupe
ENGINE: Three-cylinder 1.5-litre twin turbo gasoline
engine plus 96 kW electric motor. Total horsepower 357
TRANSMISSION: 6-speed automatic, 2-speed automatic
for electric motor
PERFORMANCE: Zero to 100 km/h in 4.4-seconds
PRICE: $145,000 approx
www.bmw.ca/BMW-i8