2015 Lexus RC F Sports Coupe Preview
2015 LEXUS RC F SPORTS COUPE PREVIEW
by Tony Whitney
The car had been eagerly anticipated, but the elegant new Lexus RC F still created a buzz of excitement when it made its global debut at the big Detroit auto show earlier this year. Quite apart from its appealing and satisfyingly aggressive looks, the RC F promises to be a very quick and agile performer, as room was made under the hood for a seriously powerful V-8 engine. For buyers who want something that looks much the same but is a little less exotic, Lexus will offer a base RC (non-F) variant of the car in some markets, powered by a 3.5-litre V-6.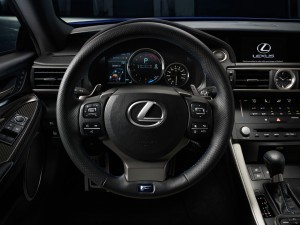 Lexus says it wants to give owners a 'back to the track' feeling, even when they're just tackling their daily commute in the new car. In other words, Lexus wants to make the RC F great fun to drive and as a bonus, be guaranteed to draw admiring glances wherever it goes.
As far as sporty cars go, Lexus has been offering its SC hardtop convertible for many years, but production has now ended and for the immediate future, the sports car centerpiece at Lexus will be the RC F coupe. The talk is that the SC, which sits in a higher price class, will be replaced at some stage by a soft top roadster, but we'll have to wait and see about that notion.
The RC F is certainly a stunning piece of automotive styling and clearly picks up cues from the LFA supercar, which was produced in very limited numbers not long ago. The RC F is certainly knocking on the door of the supercoupe class, but we won't really know how good it is until it's thoroughly tested. This new Lexus should also grant more status to the company's "F" performance branding, aimed at competing with rivals in the BMW M range, Audi's S-cars and with the Mercedes-Benz AMGs. Lexus is very highly regarded in the various luxury sedan and SUV classes in which  it competes, but still has to carve a serious niche in the world of sports cars (LFA excluded). With products like the RC F coming along, the Lexus image is sure to become a lot sportier.
The bodywork includes the usual roster of air scoops and cooling ducts associated with cars like this and the rear spoiler is 'active.' which means that it's movable, popping up at 80 km/h and retracting at 40 km/h. Lexus will offer various carbon fibre bodywork and interior options to enable buyers to 'customize' their RC F. Naturally, the car has the huge hood-to-spoiler black honeycomb air intake that Lexus calls its 'spindle grille.' It's a bold approach, but you'll certainly know what's coming by when you see one of these in your rear-view mirror. The predatory look of the car is finished off with ultra-wide tires and huge 19-inch alloy wheels (in various styles) which are hand-polished for some trim versions.
Power for the RC F comes from a 460-horsepower, 5.0-litre V-8 which delivers an appropriate amount of torque, making it the most powerful full-production Lexus ever. This mighty engine is mated to an 8-speed automatic transmission driving the rear wheels in classic fashion. Lexus has taken all kinds of steps to make this road-going racer a very safe car, but enthusiasts will find that the best safety feature of all are the four-wheel ABS disc brakes manufactured by Brembo of Italy – the company that supplies brakes for Formula One, NASCAR and other major race series. They're bound to be real 'stoppers' and if the efforts of the driver aren't quite enough in a panic stop, electronic brake force distribution (EBD) lends some help.
The cockpit again pays homage to the fabled LFA, though few will complain about that. It's very driver-oriented and should please owners who really like to feel 'part of the car' when they're out and about. The elliptical cross-section steering wheel is of small diameter and nicely thick-rimmed, again hinting at competition car origins. The hip-hugging seats keep the occupants in place if the driver is exploiting the car's nimble handling on a winding road. Lexus will offer five leather trim choices, all with contrasting stitching. Lexus points out that the seats were "designed to resemble the look of tight-fitting athletic sportswear," which is an interesting comparison. As with all Lexus products, exceptionally high quality and fastidious attention to detail come with the admission price. Several very lofty luxury carmakers use Lexus as a quality benchmark, as some will grudgingly admit.
The RC-F instrument panel is arranged around one huge dial which changes according to which of four driving modes is selected. Modes include Eco, Normal, Sport and Sport Plus. When these changes are made, information on the dial changes along with text size and colour. Pilots familiar with today's 'glass cockpit' aircraft will know all about screens with information options. The standard (non-F) RC uses a more conventional instrument array based on two large dials.
Other than the widely-praised LFA, of which only 500 were ever built, the RC and RC F are the most exciting new sports cars we've seen from Lexus for quite some time. They should create some serious competition for other new performance coupes like the new BMW M4 and recently introduced Jaguar F-Type Coupe. No pricing has been announced as yet and it may be a few months before this car arrives at Lexus dealers. Since it's based on the 350 IS F four-door sports sedan in many ways, the price should not be that steep – perhaps 20% to 30% more than a well equipped IS F.
IN SHORT…
ENGINE: 5.0-litre, 460-horsepower V-8
TRANSMISSION: 8-speed automatic with manual override
PERFORMANCE: Zero to 100 km/h in under 5-seconds
PRICE: Not yet available