Dangerous Curves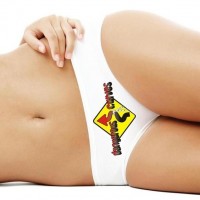 Reverse the Effects of Time and Gravity
What causes our skin to lose elasticity?
There are many reasons why our skin loses elasticity. Some of these include: aging, sun damage, weight loss, smoking, and food choices. Elasticity is the skin's ability to stretch, then return to its original shape and tone. The loss of strength, tone and health of the skin and its underlying muscles results in the loss of elasticity in the skin. Our skin is very susceptible to signs of wear and tear. This leaves the skin vulnerable to the appearance of wrinkles and a loss of elasticity. This loss of elasticity usually becomes noticeable after the age of 40. It is generally a normal part of the aging process. 
Is this something we look forward to? NO!
Is there anything we can do to alter the process? YES!!
How do we improve skin elasticity?
Research has taken giant steps in the field of anti-aging. Fortunately, we now have access to a non-invasive method of "turning back the clock". The first and only multi-frequency RF device that is FDA approved has arrived!
Since 2009, the REACTION™ by Viora has been used by surgeons in the USA to tighten loose skin after liposuction surgery. The REACTION™ treatment has recently become available in British Columbia. It can be used on any body part from the forehead to the knees…and every part in-between! The REACTION™ treatment is ideal for clients with mild to moderate skin laxity. It is effective in the treatment of cellulite and can successfully improve body shaping following significant weight loss or pregnancy. The REACTION™ treatment is safe and effective for clients in their early 20s to their mid 70s. It is an ideal solution for anyone looking for a non-invasive method of smoothing and tightening the skin.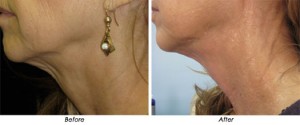 Which areas are most commonly treated?
The REACTION™ treatment can be used to treat the full face, around the eyes, jowls, neck, chin, earlobes and marionette folds. Body treatments are effective for inner and outer thighs, arms, back fat, abdominal area, buttocks and knees. The treatment is a great option for improving the after effects of plastic surgery, including liposuction and face-lift procedures.
How does the REACTION™ treatment work?
The REACTION™ is a non-invasive, bipolar, RF-based (radio frequency) technology. It uses vacuum manipulation and targets the dermal and sub-dermal tissues with RF energy. "Heating induces collagen remodeling and fibroblast stimulation to produce new, flexible collagen and to contour, tighten and lift the skin", explains Dana Gale, owner of Dangerous Curves Slimming Salon. Dangerous Curves is the first location to offer this treatment in British Columbia. Viora offers patented CORE technology (Channeling Optimized RF Energy). This technology allows for maximum results in minimal time.
Gale says, "It targets only the area and depth to be treated. Unlike other RF treatments, REACTION™ controls exactly where the energy needs to be. This treatment is painless compared to most RF treatments and often my clients have a little nap. Clients will see a noticeable lift and tightening after their first treatment."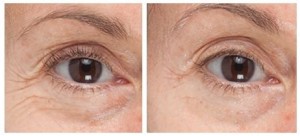 There is no down time as the change takes place deeply within the targeted tissue — any redness created will subside in less than 30 minutes and there is no soreness or bruising on the surface of the skin. Clients can return to their daily routine immediately after the session. The treatment, in most cases, is pretty comfortable. The client will experience a deep, but brief sensation of heat that is gradually adjusted to a personal comfort and tolerance level. For those seeking a bit of a boost in a safe and effective way, Viora REACTION™ has been Hollywood's secret for celebrities to stay looking younger.
The go-to place for Viora REACTION™ in the lower mainland is Dangerous Curves Slimming Salon. This unique salon offers customized one-on-one treatment and can provide private sessions for those in the entertainment industry. Visit our website www.dangerouscurves.ca and click the Good Life Connoisseur button for your exclusive offer.