Fit for Adventure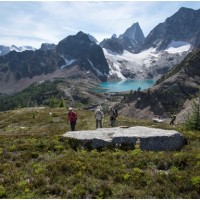 Fit for Adventure: CMH Summer Adventures
By Linda Mallard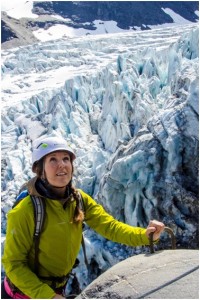 Imagine… Flying by helicopter into the heart of ancient glaciers, jutting pinnacles, snow-capped peaks, and placid lakes. Nestled in the southeastern corner of the expansive Columbia Mountains, CMH Summer combines glorious mountain experiences with refined backcountry lodges and gourmet cuisine. Spend your days exploring high alpine peaks and wildflower-blanketed meadows under the watchful eye of an experienced mountain guide, or accomplish high flying feats with North America's longest via ferrata. By night you can relax in the hot tub and indulge in a glass of fine wine, while watching the exchange of day to night over the backdrop of majestic mountains and wilderness terrain. That is what heli-hiking with Canadian Mountain Holidays (CMH) will bring you. CMH offers hiking and high flying adventures to all ages and levels of fitness. Specialty weeks for families, yoga, photography, painting and cooking lessons, deepens the experience even more.
Concerned you might not be fit enough to hike? Think again! The good news is that you don't have to be an elite athlete to enjoy hiking; but having a moderate level of fitness and strength is recommended to ensure you can handle any terrain and enjoy a full day of hiking. If hiking is on your list of fun things to do this summer, preparing with a fitness routine will ensure you are breathless only from the view.
Here are a few exercises I give my CMH guests to begin at least one month before their trip. The main areas to focus on are:
• Cardio
• Legs
• Hips
• Upper back
• Core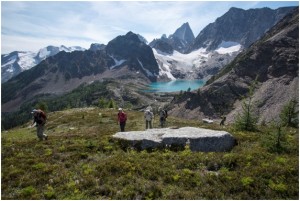 Cardio
Hiking is done at a steady pace. Due to altitude changes however, being in good cardiovascular shape will help. Walking and hiking both up and downhill is a must. If you are just starting, begin with shorter walks on flatter terrain and work your way up to longer and steeper. If your trip is a day Hike, practice carrying a light pack on your training hikes/walks. If you are doing a backpacking trip, carrying a weighted pack that would equal your load during your training walks/hikes will be necessary. Start light and then build up to the full weight over time. If you don't have access to trails, then road walking or treadmill walking will do the trick. Go up and downhill as much as possible. If you are purchasing new hiking boots, break them in ahead of time. Start by wearing them around your house, then short walks that progressively get longer.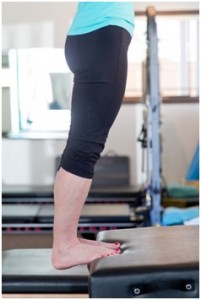 Calf raises and feet strengthening
I
recommend doing body weight exercises in bare feet so you fully work the foot. Using an elevated surface allows you to maximize the range of motion in stretching and strengthening. Single leg calf raises are a more advanced variation but excellent for additional strength and balance work.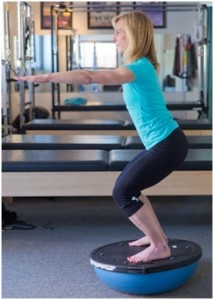 Legs
Quadriceps and hamstring strength and mobility are very important to tackle the up and the down hills. Lunges, step ups and step downs will work your legs and gluteals. Shown here are lunges and squats on a BOSU in bare feet. This will not only strengthen your legs, but challenge hip stability and lateral stability of hip, knees and ankles. Hiking in the mountains will take you on uneven terrain requiring your body to stabilize in all directions. A BOSU is a great tool to prepare you for this but doing them on the floor is very effective as well.
Hips
The gluteus medius is a stabilizer of the hip and supports knee tracking. The exercise shown here has a band around the ankles. Lift your leg to the side and lower back down. This will target your gluteus medius, but also stability of your standing leg and core for balance.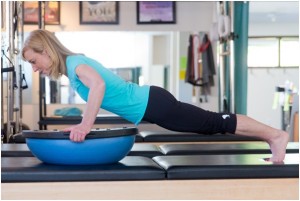 Core and Back
Much of hiking uphill will involve a forward leaning position. Back packs will add additional strain on your lower back and neck. The plank will target abdominals, back, pectorals and shoulders. Maintaining a straight position, hold for up to 60 seconds and then relax. You can also throw in a few strong push-ups from your toes or knees to add more upper back stability with arm strength. The exercise shown here is on a BOSU for added stability, but can be very effective on the floor.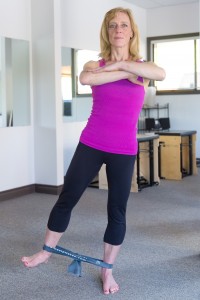 This back exercise uses a band. With arms straight out front, pull your arms wide. Focus the work across your mid-back and between your shoulder blades. Add a pause and hold with each repetition.
When You Have a Goal, the Conditioning is Fun!
Getting in shape for an exciting holiday makes exercising fun. Start your training regime early so you can focus on the adventure knowing your body will support you on any terrain.
For more exercises and videos, go to: http://twconline.ca/videos Happy hiking!