Grilled Hanger Steak with Chimichurri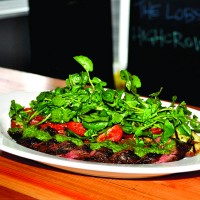 Grilled Hanger Steak with Chimichurri
Greg Reid, Chef de Cuisine of Edible Canada
Edible Canada (formerly Edible British Columbia) is Canada's largest culinary tourism and locavore retail company, dedicated to sourcing the highest quality culinary products from coast to coast for its customers. Headquartered for seven years in the gastronomic thoroughfare of Granville Island Public Market, in Vancouver, British Columbia, it is the leading ambassador for new Canadian cuisine. Edible Canada's services include a retail and online artisan food store, chef-guided Granville Island market tours, demonstration guest chef market dinners, gourmet kayaking weekends, and the popular Amuse Bouche newsletter and blog. In the summer of 2011, they opened Edible Canada at the Market—a vibrant bistro in the heart of Granville Island and at the forefront of new Canadian cuisine.
"The trick to cooking a great steak is resting time.
This allows the juices to resettle throughout the meat."
The chefs at Edible Canada pride themselves on using quality local ingredients in their recipes. Chef Greg Reid
shares with us his recipe for hanger steak, which is complemented by chimichirri, a spicy sauce originating from South America, where it is used as a marinade and a condiment.
 Chef Reid's passion for creating inspired dishes began in Newfoundland, where he enrolled at The Culinary Institute of Canada in Charlottetown. After graduating, Greg began his quest west. During a stint at one of the top restaurants in Canada at that time, Regina's The Willow on Wascana, Greg was a participant on the Global television program, Canada's Next Great Chef. After his tenure in Saskatchewan, he continued west to Vancouver, taking senior positions with some of Canada's most celebrated Chefs: Bruno Marti at La Belle Auberge, Warren Geraghty at West Restaurant, and Daniel Boulud at db Bistro Moderne. After a summer well spent in Okanagan wine country, Greg returned to Vancouver once again, working with "Canada's Top Chef," Dale Mackay, at Ensemble Restaurant Group. He now presents the following dish from the kitchens of Edible Canada.
Recipe:
Grilled Hanger Steak with Chimichurri
Serves 4
This is an easy dish that we cook quite often at home. Hanger steak is an inexpensive and very flavourful cut. Located between the plate and the flank on the cow, it has been a butcher's secret for generations. The trick to cooking a great steak is resting time. This allows the juices to resettle throughout the meat. With hanger steak in particular, a good rule of thumb is to rest it for as long as you cooked it or it may become chewy. Also, because it is an off cut, it shouldn't be eaten any less than medium rare or, again, it will be chewy. Follow these rules and I ensure you will be enjoying hanger from now on.
Ingredients:
1 1.5lb hanger steak
ask your butcher to separate it into two loins for you
1 bunch Italian parsley
250ml olive oil
100ml red wine
4 cloves garlic
15g dried oregano
15g smoked paprika
1 lemon (zest and juice)
4 Roma tomatoes
6 new red potatoes
1 bunch fresh watercress
Salt
Pepper
20ml balsamic vinegar
CHIMICHURRI: Place parsley, olive oil, red wine, garlic, oregano, smoked paprika, lemon zest and juice in a blender and puree until smooth. Season with salt and pepper.
POTATOES: In a boiling pot of salted water, drop in your potatoes. Reduce heat to a simmer and cook until tender. Strain and let cool enough to handle. Cut into 1cm coins and drizzle with the chimichurri. While your meat is resting (see below) you will finish these on the grill.
TOMATOES: Preheat your oven to 275°F. Cut Roma tomatoes into quarters and coat with the chimichurri. Place on a wire rack on a baking sheet and bake for 25 minutes. Remove when slightly browned and shrivelled but not burnt.
BEEF: Heat barbecue to high. Season steak liberally with salt and pepper and coat with the chimichurri. Place hanger steak on the hot part of the grill and sear on each side for 1 minute to achieve colour. Reduce heat to low, and continue to rotate for another 4 minutes. Steak should be at the desired internal temperature at this point. A good way to check is by inserting a metal cake tester into the center of the loin and touching it to your wrist. If it feels warm then you are there. Hot and it's overcooked! Now remember to rest the meat for a few minutes before slicing.
PLATING: I like to present this family style on a platter. Slice the hanger steak thin and layer down one side. In the other corner place the roasted tomatoes and barbecued potatoes. Place the watercress in the center and drizzle with balsamic. I also like to add a side dish of chimichurri for dipping.