Luxury Lifestyle Automobiles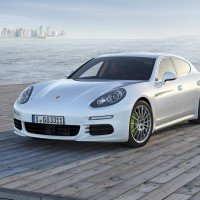 Luxury Lifestyle Automobiles
By Tony Whitney
Porche Panamera E Hybrid 
There are lots of people out there who like the idea of driving a fuel-sipping hybrid car, but their sense of style and love of fine motoring machinery makes them shrink from owning something that looks like a diminutive, road-going jellybean.
For those who don't want to abandon sporty motoring, but would like to make some kind of "green gesture," the choices are widening and leading the pack right now is the splendid Porsche Panamera E Hybrid.
It might be a good plan to recap the Panamera because it's one of the most fascinating and radical cars Porsche has ever built. The Panamera was launched following years of speculation and rumours surrounding a 4-door Porsche of some kind – an idea that horrified purists of the marque, as was to be expected! The Panamera not only has four doors, but it really does have room for two full-sized people in the back and they're not just crammed in there either. I'm 187 cm or so and can sit comfortably in a Panamera, even when their are tall people up front. The rear doors are quite wide too, so access is no problem either.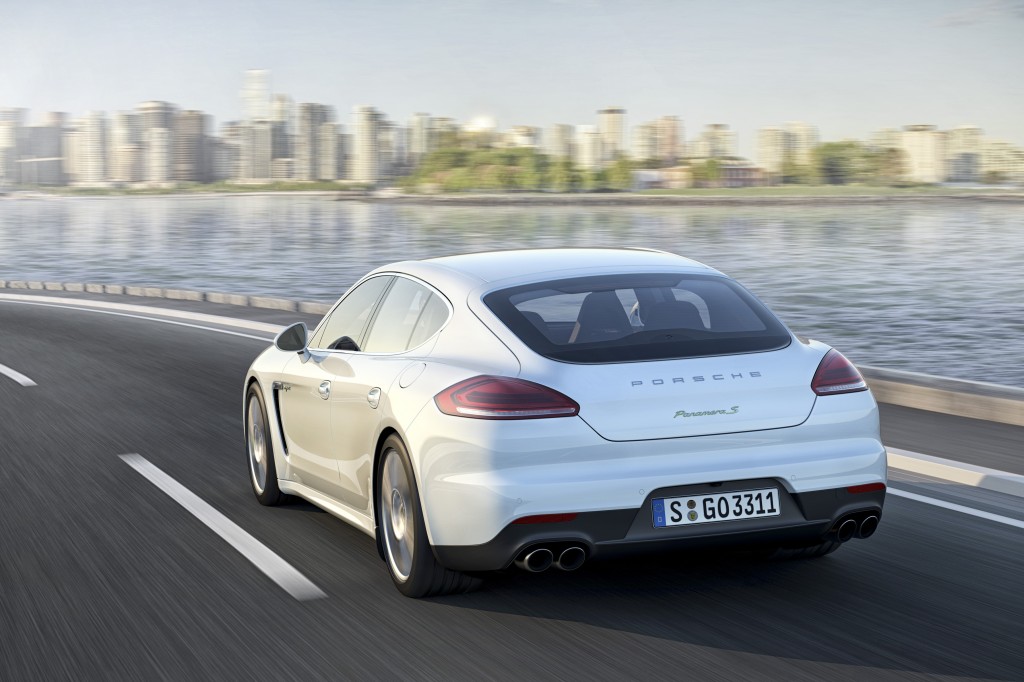 The car looks very low and sleek with a slightly bulbous rear roofline – a design feature that allows the rear passengers to sit with their heads held high and not folded awkwardly on their chests. It's a much more successful design effort by Porsche than that of their rivals over at Ferrari, whose new FF 4-seater looks decidedly awkward in the styling department with its "humped" roofline. And the Ferrari only has two doors. The unkindest comment that's been made about the Panamera is that it looks like an oversized 911, but the car has sold well and is contributing strongly to Porsche's record sales in many parts of the world.
Porsche had one key factor in mind when it decided to build a hybrid version of the Panamera. Thrifty and clean it might be, but it had to have the performance and handling that all Porsche's are famed for – even the SUVs. There could be no sacrifices in that respect. Buyers would get an economical, clean-running car, but it get up and go when called on to do so and handle like the sports car it is beneath its largish "4-door coupé" bodywork. The result is quite amazing. The Panamera is a delight to drive and visits to petrol stations are blessedly less frequent than they would be with any comparable car.
The E Hybrid uses a similar powerplant to the Cayenne Hybrid SUV and it's a fine piece of engineering. It's based on a supercharged and direct-injected 3.0-litre V-6 working in unison with an electric motor (bigger for 2014) for a combined 416-horsepower. Transmission is an 8-speed (yes, eight!) automatic with manual option and it's an outstanding piece of work. Hybrids can be very smooth and "torquey" and this one, with its 416 horses – is very exhilarating and actually feels a lot like a V-8. With the electric assist, there's a feeling that you've got a special kind of power on tap. As with pure electric cars, electric motors provide full performance "right now" and don't need time to spool up as petrol engines do. If anything, it's a more satisfying motoring experience than that provided by a Panamera with a conventional petrol engine alone. Porsche tells us that it's the most efficient vehicle they've ever produced. Under certain circumstances, it's more economical than the manufacturer's Boxster model.
As with other hybrid vehicles, the Panamera uses a large nickel/metal-hydride battery and it's mounted somewhere under the trunk floor. It doesn't seem to rob the car of any cargo space, which is very good. The battery is charged in all kinds of ways to maximize efficiency, including plug-in capability for 2014, including regenerative braking (waste energy from braking is directed to a battery-charging role) and an automatic engine stop-start system. Stop at a light and the engine turns off – a disconcerting feeling at first, but I've never known one of these to fail when the time came to drive on. Several Panamera models have this feature. All this eco-technology results in an impressive 7.1-litres/100 km using the European fuel consumption rating system, although the distance you can go on electricity alone is quite modest.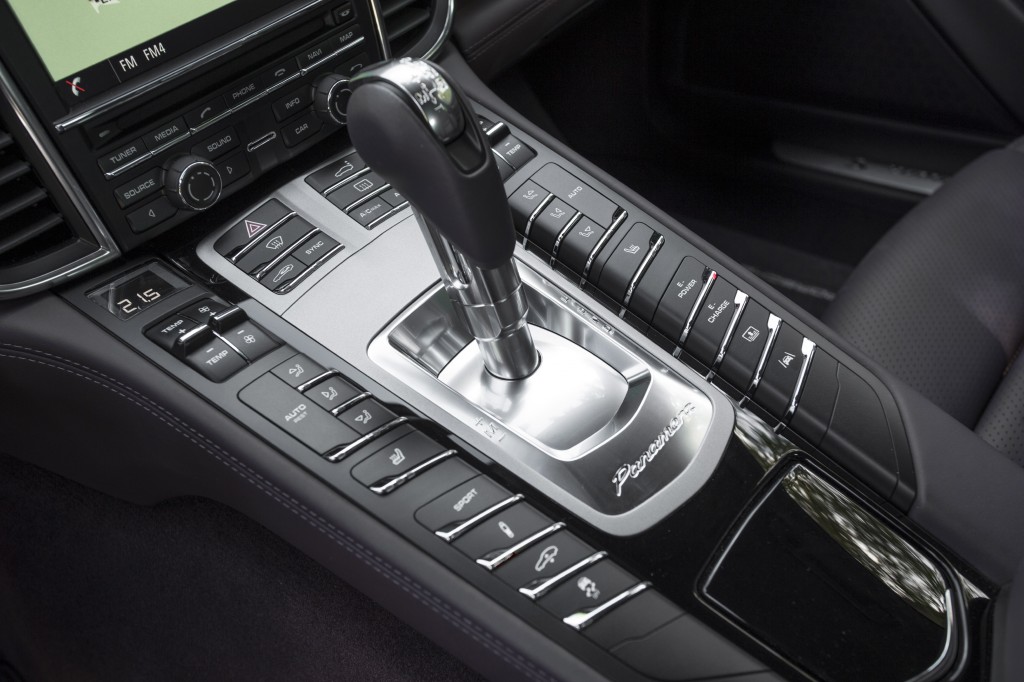 The cockpit is a wonderful sight to behold and confirms Porsche's reputation for producing "drivers' cars." The driving position is just about perfect and on long runs, the car is exceptionally comfortable. The front seats have just the right amount of side bolstering without making them confining. There's a very comprehensive array of dials confronting the driver and this all takes a bit of getting used to. Happily, it's a process that most people would be very happy to get involved with.
There's an almost baffling array of switches on the central console, but it's all a matter of driver familiarity. Once you get used to them, it's a matter of time before everything becomes intuitive and there's no need to glance away from the road once you've figured out where everything is. The navigation system is easy to set up without going through the hefty owner's manual and I found it deadly accurate in use, pinpointing house numbers or points of interest very effectively. The only instrument/control layout change I'd like to see is a move for the hands-free phone button from the console to the steering wheel, even though it would to some extent spoil the look of the beautiful aluminum and leather wheel.
The car is superbly finished inside and out and Porsche deserves full credit for proving that it is possible to combine green driving with one of the world's finest and most desirable sports sedans. If there are any doubters that the words "hybrid" and "performance" don't go together, they only have to take a look at the results of the legendary Le Mans 24-hour race for the last few years and Audi's hybrid successes.
In short…
ENGINE: 3.0-litre hybrid V-6, 416-horsepower.
TRANSMISSION: 8-speed automatic with semi-auto option
ACCELERATION: Zero to 100 km/h in approx. 6-seconds.
PRICE: $110,000-plus, MSRP
http://www.porsche.com/canada/en/
 Audi S7 Sportback Luxury – 4-Door Performance "Coupe"
When Audi decided to add performance versions of most of its vehicles a few years back, it took the rather subtle step of simply replacing the traditional "A," as in A4, A6, A8 and so on, with the letter "S." It may seem to be a modest way of trumpeting your fastest and most agile cars, but Audi likes it that way and so, it seems, do its customers. The cars are very popular and the S now has a special cachet with Audi products that's every bit as significant as the AMG of Mercedes-Benz or the M of BMW.
The best way of finding out how good these cars can be is to get behind the wheel of a few 2014 models, as I did recently, and go for a drive. My most recent experience was with an S7 Sportback, which is certainly the most visually striking of all Audi S-cars.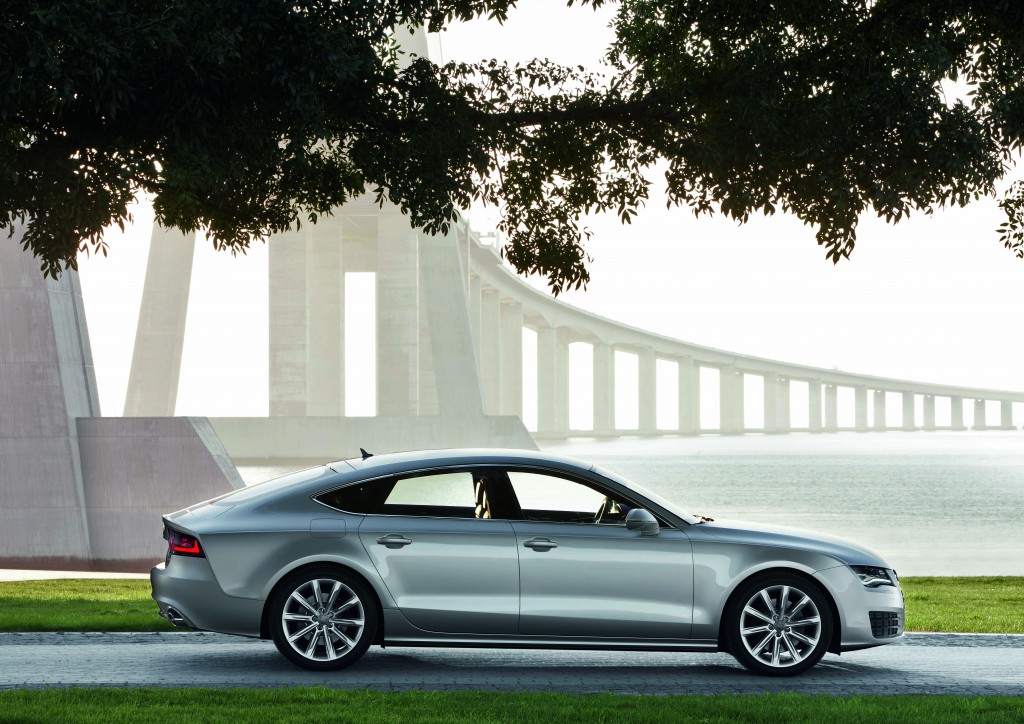 One glance at an Audi S7 Sportback (or the less powerful A7 Sportback for that matter) and it's clear that the car is bound to be compared with the Mercedes-Benz CLS. When Mercedes first introduced the motoring world to the "four-door coupe" configuration with its CLS, it was clear that other upscale manufacturers would follow with versions of their own.  The idea of a full five-seat (four with some makes) automobile that looks more like a sporty coupe was well accepted by buyers of luxury cars. It wasn't long before BMW had a contender with its rather awkward-looking 5-Series Gran Turismo and even VW got into the act with its Passat CC.
The great thing about Audi's S7 Sportback is that it has a nice big hatchback which opens to reveal an impressive load floor – especially when the rear seats are folded down. Quite apart from the car's many dynamic qualities, this must make it one of the best luxury touring cars on the market and quite possibly the most practical of its class ever developed. During my test, I used the car to move some fairly large pieces of furniture, which it swallowed quite easily in its 1,390-litre cargo space. I felt a little guilty for using this amazing and powerful machine for mere load-hauling, but it does prove that a supercar (and the S7 fits that category, as we'll see) can be practical too.
The S7 is a thoroughly modern design and has great "road presence" which prompts lots of curious glances out on the highway. It's a great car for someone who values individuality in an automobile and doesn't want to drive the same luxury car as thousands of others out there. If the S7 is a little too much in terms of flat-out performance, buyers can opt for the less potent A7 with its V-6 engine.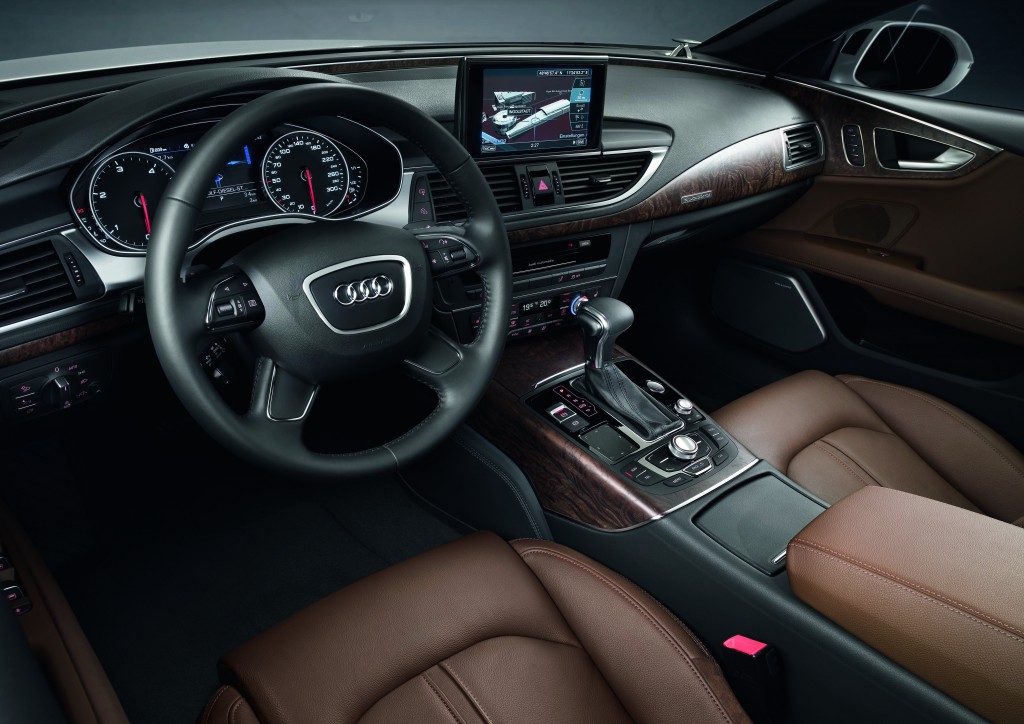 The S7 is powered by a remarkable and highly-responsive 420-horsepower twin-turbo V-8 that provides what seems like limitless power and silky smoothness. It's mated to a 7-speed automatic transmission with manual shifters on the steering wheel. This impressive level of power is nicely controlled by Audi's outstanding Quattro all-wheel drive, so it's not one of those powerhouse cars that will get away from you on a rain-drenched corner. The power is so effortless that it's wise to keep a close eye on the speedometer – aided on the model I drove by a very clear and easy-to-scan head-up display projected onto a patch on the windshield. The speed display sits almost in the average driver's line of sight without being obtrusive so it takes barely a glance to read it. A similar engine to the one under the bonnet of this Audi is used in the Bentley Continental GT (Bentley being part of the VW/Audi Group) and I'd rate this outstanding piece of engineering as among the very best power units anywhere in the world right now.
As with even the least expensive Audi, the interior is very well executed – I especially liked the quilted leather seats which looked both racy and luxurious. Sitting behind the wheel of an S7 is a very rewarding experience and the cabin ambiance is as good as anything in the industry – especially from a design standpoint. Everything is pretty well where it should be and there are some interesting safety features too. My test S7 came with a blind spot warning system which functions by displaying LEDs on the back of the door mirror when a vehicle is sitting in your blind spot. We've all had the experience of beginning a lane change when a passing vehicle isn't visible either by mirrors or an over-the-shoulder glance (every car ever built has a blind spot somewhere, it seems). Another remarkable safety system that's available as an extra with the A7 is a night vision camera that displays an image on an instrument panel screen. It shows up people and even small animals way down the road that you'd never spot with the naked eye at night. It's a bit like watching the closing scenes of the movie Zero Dark Thirty, which is viewed through the night vision goggles of the attacking Navy SEAL unit, but it sure adds a road safety bonus.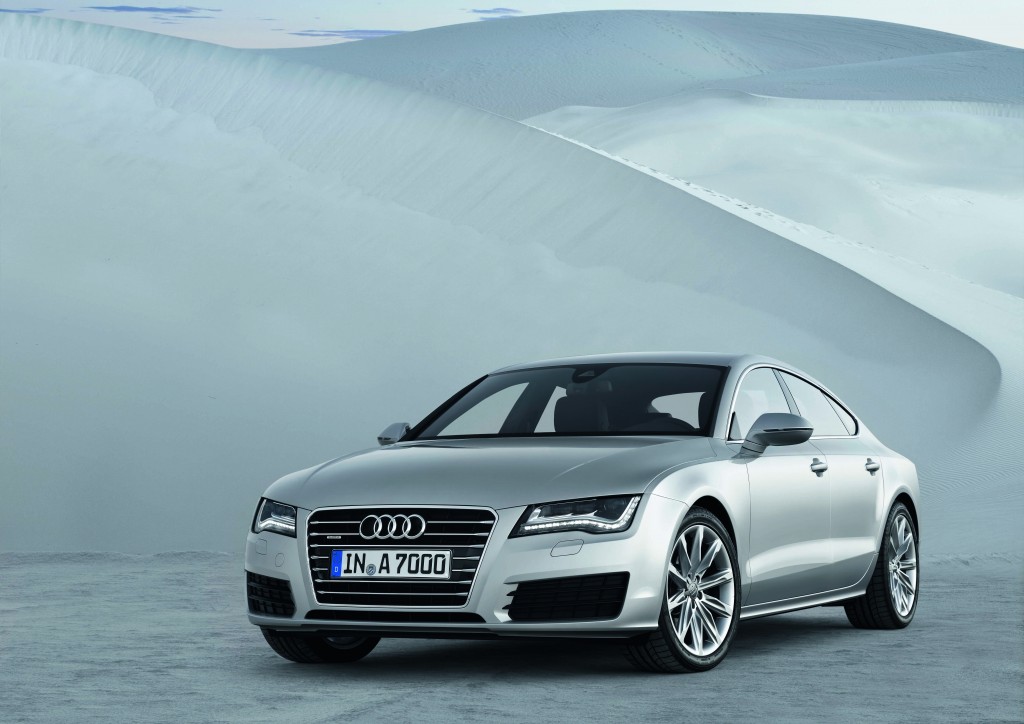 The S7 Sportback certainly rates among the world's great cars right now. It is expensive, as might be expected, but it has great individuality, a most impressive twin-turbo V-8 engine, superlative comfort and ready-for-the-track handling. There's not much more you can ask of a luxury saloon that delivers not only serious power, but surprising practicality too.
IN SHORT
ENGINE: 4.0-litre twin turbo V-8
TRANSMISSION: 7-speed automatic with manual mode
ACCELERATION: Zero to 100 km/h in approx 3.9-seconds
PRICE: $92,100 MSRP