Medical Marijuana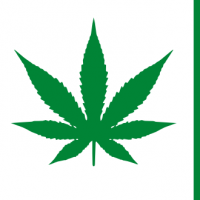 Medical Marijuana – Where There is Smoke…
Marijuana or Marihuana is the most widely produced and consumed illicit drug in the world today.  About 5% of the world's adult population (aged 18 to 64) had consumed Marijuana at least once in 2010 according to the UN.
Marijuana is one of the oldest cultivated crops in human history and its plant history dates back almost 40 million years. Marijuana wasn't widely criminalized until the early part of the 20th century in many parts of the world. In the United States, when more "conventional" drugs came onto the scene at turn of the 20th century that had better consistency in terms of quality/potency and were easier to store, Marijuana's popularity shifted more towards recreational use. The Marijuana Tax Act of 1937 banned recreational use and in 1942 it became illegal to use for medicinal applications. Canada banned its use earlier than the United States by adding it to its Opium and Drug Act of 1923.
There are two main kinds of marijuana plants) with unique properties.  These two plants are purposely crossed to produce hundreds of marijuana strains for consumption:
1)      Cannabis Sativa:
Comparatively tall (5-6 meters) and thin plants
Have a light green color with narrow leaves
Originated in Colombia, Mexico, and South East Asia
Can take 10-16 weeks to mature once flowering has begun
2)      Cannabis Indica:
Comparatively short (1-2 meters) and dense plants
Have a dark green color with broad leaves
Originated in Afghanistan, Morocco, and Tibet
Can take 6-8 weeks to mature once flowering has begun
Examples of reported benefits of strains rich in either THC or CBD.  As with most drugs, there can be non-desirable side effects, particularly after over consumption.  That being said, there have been no confirmed cases of marijuana overdoses to date. The most common result of a person's overconsumption is the losing of consciousness.

Marihuana Medical Access Regulations (MMAR)
In 2001, the Marihuana Medical Access Regulations (MMAR) came online and marked the arrival of medical marijuana in Canada. Under this program, individuals can gain access in three different ways:
1)      It could be grown by the user with a Personal Use Production License (PUPL)
2)      The user could designate someone else to grow it for them via a Designated Production License (DPPL)
3)      It could be purchased directly from Health Canada, which was supplied by one private company, Prairie Plant Systems Inc. Only one strain was available using this option at a fixed and subsidized price for the licensed user.
Licensed participants under MMAR have grown from 477 in 2002 to around 40,000 by the end of 2013.  The majority of license holders grow medical marijuana themselves—this is the cheapest way to gain access.  For the sake of comparison, Health Canada charges $5/gram, the black market cost can be in excess of $10/gram, and homegrown supplies can cost considerably less than $1/gram.  Certain participants consume in excess of 10 grams a day—At Health Canada prices, this would equate to over $91,000 per annum in expense in a country where insurance really doesn't exist for this treatment option.
With such a large jump in participants, Health Canada in recent years has decided to phase out MMAR for a different program.  The biggest issues with MMAR that needed to be addressed were:
At 40,00 participants, it was becoming an administrative burden for Health Canada
The subsidy cost was becoming a bigger drain on Health Canada's operating budgets
There still was not enough accessibility for individuals seeking this treatment
Having over a million plants being grown under personal license (often in residential settings) was a safety hazard and was leading to an increase in criminal activity in residential neighborhoods. There also were not enough enforcement tools for local law enforcements.
The quality and safety of medical marijuana grown was a growing concern (i.e. mold is a bigger safety issue than a person consuming too much).
They won't admit it, but the potential for considerable tax revenue was not being realized under MMAR
Marihuana for Medical Purposes Regulations (MMPR)
 MMAR is being replaced by the Marihuana for Medical Purposes Regulations (MMPR) program.  This new program went fully live on April 1, 2014.   The basic premise of this new approach allows Health Canada to have more control over the program, increase accessibility, and earn significant tax revenue.
Effectively, Health Canada under MMPR will only license and regulate a small number of commercial producers.  Individuals can no longer grow medical marijuana for themselves. As shown in the process chain diagram, Health Canada has completely removed itself from the medical marijuana sector in Canada except for its control over these new commercial scale producers (Prairie Plant Systems Inc. is licensed under MMPR and will now have competition).
 Here is how a user gains access under MMPR:
Step 1: An interested user gets a prescription from a licensed medical professional (same as before, but the medical professional has less liability and can prescribe it for a much broader range of ailments—no regulatory body decides what these ailments could be).
Step 2: It is then up to the interested user to choose which producer to use.
Step 3:  The producer verifies the prescription and dosage with the medical professional.
Step 4: The producer works with the verified user to find the appropriate strain(s) and can supply up to a one month supply of product via a licensed shipping company (i.e. FedEx).
If done properly, it can now take less than 24 hours from the prescription being written to the verified user receiving his/her supply of marijuana.   For producers, this is now a consumer branding exercise and attracting users with limited marketing tools and retaining these customers (it is a minor inconvenience for a user to switch producers) will be key.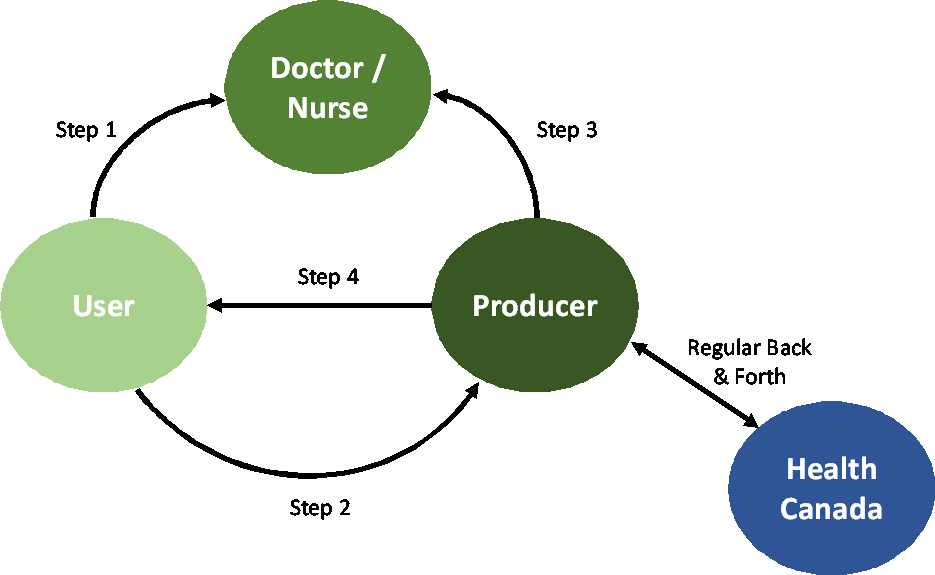 Bottlenecks
There are over 400 applications in the system awaiting Health Canada's approval.  The vast majority of these applications will not meet the strict requirements to qualify for a license.  If an applicant meets the requirements, it should technically get a production license.  However, Health Canada can approve these at an unknown pace of its own choosing.  This is the supply bottleneck.  There are currently 12 licensed producers under MMPR and we expect this number to increase significantly over the balance of this year.
The majority of medical professionals including Health Canada do not recognize marijuana as a legitimate treatment for any ailment.  Also doctors and nurses are being asked to write prescriptions with little understanding of dosage and no detailed medical studies.   These detailed studies cost hundreds of millions of dollars and take many years to conduct.  They are also typically done by pharmaceutical companies who have little involvement in the medical marijuana business at present, so no one should expect similar studies in the near future.  This is the demand bottleneck as the doctors and nurses are now the gate keepers to growing the market under this new program.
Size of Market
Health Canada expects the current 40,000 participant count to increase at roughly 25% per year to arrive at 450,000 licensed users in 10 years, which would result in $1.3 billion in revenue for producers.  We feel this projection is very conservative, since the growth rate from 2012/2013 was closer to 100% under the less effective MMAR program.  The black market in Canada is several multiples larger than the existing MMAR user base.  This black market is the true target of these new licensed producers who can offer the following advantages:
–          In most cases cheaper product
–          Greater number of strains
–          Higher and more consistent quality
–          A more convenient method of supply
–          The user is no longer breaking the law
For these and other reasons (largely tied to less hurdles for doctors/nurses writing prescriptions), we expect the Canadian market to reach 450,000 licensed users in less than ten years.
The Injunction
On March 22, 2014, a federal judge ruled that MMPR would put an undue economic hardship on MMAR users that are currently growing their own supply.  The judge also put an injunction that prevents MMAR from expiring on March 31, 2014 until a new hearing is conducted to address this issue.  This hearing will not happen for another 9-12 months.  However, no MMAR licenses will be issued to new participants. On March 31, 2014, Health Canada launched an appeal challenging this injunction.   If nothing else changes, licensed producers or hopeful applicants targeting these 40,000 licensed users under MMAR as the principal source of their initial customers under MMPR in 2014 are negatively impacted.  Those producers principally targeting the black market and first time users who will have an easier time getting access to medical marijuana under MMPR are less affected.
Investor Considerations
Most investors can only gain exposure through investing in public companies. There are few ways to currently get this exposure on Canadian exchanges right now.  There are a large number of stocks on US OTC exchanges that have performed very well in recent months and have exposure to marijuana markets in states like Colorado and Washington (includes exposure to recreational use as well).  By and large these are very high risk investments with a large percentage of companies that will never achieve operational self-sufficiency.
The Canadian market is considerably more stable and transparent than what is happening in the US.  Therefore our bias is towards Canadian exposure.  The first licensed producer under MMPR is expected to start trading on a Canadian exchange during the first week of April.  There will be others that will join it over the balance of 2014.   For most investors we recommend waiting until the end of 2014 before making investments in this space (it is still early days with plenty of upside to take advantage of in the coming years).  For those looking to get involved in small speculative investments in the near-term, we would recommend looking for the following attributes:
A company that is well capitalized before going public
Has a professional management team with public market experience that is supported with an experienced operational/growing team
Has a defined customer service and branding strategy
Scale and properly structured first movers will have certain advantages
Producers with a large number of high quality strains will also be better positioned
There are a large number of junior companies on Canadian and US exchanges (typically junior mining plays) that have recently announced their intention to "hunt" for Canadian medical marijuana licenses.  The majority of these companies have no understanding or experience in this field. They are also working with a target market where most license holders have no interest in going public at this point. So the bulk of their negotiations are with other start-ups that have applications in to Health Canada.  We would avoid these stocks until there is clarity on legitimate license acquisitions.
Disclaimer
The author of this article works for a full service investment bank that is actively involved with a large number of private and public/go public medical marijuana companies.  Additional information on this space including specific information on individual medical marijuana companies can be gained by contacting the author directly at kmalik@jacobsecurities.com.