Top 10 Dream Cars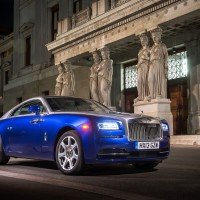 Top 10 Dream Cars
By Tony Whitney
Luxury vehicles seem to survive every imaginable type of economic setback, possibly because of the old adage, "there's always someone around with money to spend." Whatever the reason, automakers in the upscale segments are thriving with new sales gains announced with monotonous regularity. Demand has created a rush to come up with tempting new products and, in some cases, the results are spectacular. Our pick of the pack for this holiday season looks at some standouts—not all of them making the cut simply because of giant price tags. Technical novelty and charisma play their part, too. There's something for almost everybody and even one model that only nine people on the planet will get to enjoy as owners. Enjoy the show!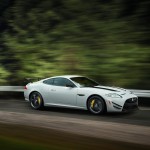 Jaguar's much-lauded F-Type has been getting most of the attention lately, but we mustn't forget the svelte and speedy XKR-S GT model, which is the fastest road car the British automaker has ever built. It looks track-ready with its big rear spoiler and drives that way, too, with its supercharged V-8, offering an amazing 550-horsepower plus handling that only a racing driver would be able to fully exploit—and then, only on the track. It packs in all the luxury and refinement you'd expect from a Jaguar and also, lots of carbon fibre trim to emphasize its performance heritage. Jaguar's XK coupes are among the most stylish and coveted 2+2 sportsters available today, but the GT takes the desirability level a few steps higher.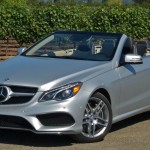 For the 2014 E-Class Cabriolet from Mercedes-Benz, styling has been dramatically improved and the great new front-end look should forever silence those who call the E-Class "your uncle's Mercedes." The E-Class has been an outstanding car for years, but some versions have been, perhaps, a little too conservative. All models have the "sports car nose" that's so popular on other products from the company. It's basically a mesh grille with a huge Mercedes star in the middle of it and either one or two chromed cross-strips, depending on model. On some models, you can order a standard "radiator" grille with a stand-up three-pointed star instead. There are styling changes around the rest of the bodywork, too and this is as classy a four-seat convertible as you're likely to see. A range of engines is available and some versions of the E-Class come with a hybrid powertrain.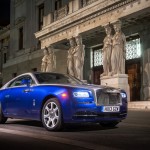 The new Wraith is claimed by Rolls-Royce to be the fastest and most luxurious motor car it's ever built, and few people are likely to doubt that. Perhaps even more importantly, it's being described by many who've seen the car (including me) as the best-looking Rolls ever, though purists of the marque would have lots to say about that. The Wraith uses a silky-smooth and almost unbelievably refined twin-turbo 6.6-litre V-12 (with BMW origins), that puts out a whopping 624-horsepower. This kind of power puts the Wraith into some pretty rarefied territory and among the world's top performance cars. It's an exceptionally fast car by any standards at all and as with so many Rolls-Royce products, handling is outstanding without this affecting the refinement of the ride. Rolls-Royce automobiles have always had a special aura about them, but the Wraith is likely to attract a new type of buyer and one who is probably a little more youthful than average for this grand old marque.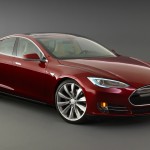 The Tesla Model S is a remarkable all-electric four-door sedan with impressive performance, handling and levels of comfort and opulence. Quite apart from its innovative power system, the car is one of the "cleanest" large sedans on the market and has earned a good deal of praise from the automotive press. Few electric vehicles offer the kind of performance this one does and it boasts a surprisingly long range, too. Many believe it's the "breakout model" in the field of pure electric vehicles and it's tough to argue with that. With charging stations popping up in municipalities all over Canada, electric vehicles and plug-in hybrids are going to attract continuing interest. The Tesla Model S is a match for luxury sedans like the Mercedes-Benz S-Class, BMW 7-Series and Audi A8—except that you'll never have to stop for gas!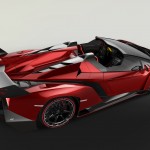 Just when we were all thinking that Lamborghini would be taking a break for a while after getting its superb Aventador to market, along comes what is surely one of the most remarkable sets of wheels in automotive history—the Veneno. This astonishing confection looks like the stealth fighter of the supercar brigade with its angular shape and faceted detailing, and delivers performance beyond expectations—100 km/h in just 2.9-seconds, aided by its 750-horsepower 6.5-litre V-12. Top speed is said to be 355 km/h. The bad news is that Lambo is only building nine and each one will cost around $4.5 million. Line up fast!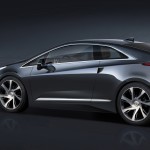 Cadillac surprised the industry a few months back when it announced that a dedicated electric model was on the drawing boards. Now, it's about to arrive and is bound to attract a lot of interest. It's based on an existing model Cadillac coupe, so it has those wonderfully distinctive "razor edge" lines that have characterized GM's luxury division for many years. The running gear is based on the system used in the successful Chevrolet Volt, which means that it is an electric car, but it uses an auxiliary motor to charge the batteries if the driver runs out of range. Keep it charged up and you'll have a Caddie that will never need a gas fill-up.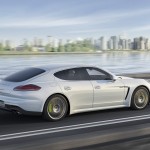 Another "green car for the well-heeled" is Porsche's new Panamera S E-Hybrid plug-in hybrid, which not only produces a solid 416-horsepower from a twin-turbo V-6, it will reach a speed of 135 km/h on electricity alone. The Panamera's electric motor produces 95-horsepower—double that of a similar car produced earlier. The Panamera has benefited from a wide range of upgrades for the 2014 model year and continues to occupy a rare spot in the automobile market as a full four-seat, 4-door sports car, with the performance and agility we've come to expect from all Porsche products. This may look like a slightly extended version of Porsche's 911, but there is a surprising amount of room for rear seat passengers—a masterpiece of packaging.
Iconic British automaker Aston Martin never seems to come up with a model that isn't "right on the button" when it comes to good looks, performance and luxury. So it goes with the new Vanquish, which is available as either a closed coupe or a roadster. At the very pinnacle of Aston's range (the company says it's the finest car it's ever built), the Vanquish is very elegantly styled—a combination of quiet opulence and aggressive performance. The V-12 engine, every one of which is signed by the employee who hand-built it, develops 573-silky horsepower and the occupants are surrounded by the finest leather trim. This is Grand Touring in the truest sense of the word.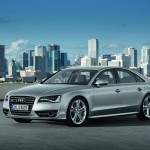 The Audi S8 is about as big as a car gets these days, except for monsters like the Rolls-Royce Phantom, and for people who want to transport four or five occupants in spacious splendor, it's tough to beat. It's a very handsome car indeed, with clean and gimmick-free aluminum bodywork, which is exactly what people who buy this class of car want. It has elegance and dignity, and the S8 is only subtly distinguished from its less power-endowed stablemate. The big Audi grille is there to confirm the brand and the S8 has very small badges to identify it as part of the automaker's performance "S" lineup. At the heart of the Audi S8 is a superb 4.4-litre twin-turbo V-8, developing a whopping 520-horsepower. Its race car-like acceleration (under 4-secs to 100 km/h) demands concentration, and it's a car that very much rewards a capable driver. Quattro all-wheel drive keeps the power on the road where it belongs.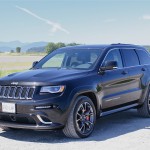 Of course, to many lovers of fine cars, nothing is more satisfying than a really well-put-together SUV with something special in the performance department. For them, Jeep builds its surprising Grand Cherokee SRT, which offers quite astonishing performance to go along with the most respected 4-wheel drive system in the industry. Based on the new Grand Cherokee, which happens to be the nicest Jeep has done for years, the SRT packs a Hemi V-8 under its hood, producing no less than 470-horsepower. The performance package is enhanced with lowered suspension, Italian Brembo brakes (used by Formula One and NASCAR) and a great interior with hip-hugging sports seats up front. If you think that SUVs are boring, you haven't driven one with 470-horsepower on tap!