Tulum, Mexico
The New Frontier for Real Estate Investors
By Raminta Lilaite
Once a while, there are locations in the world that are on the brink of explosion in terms of real estate, and at the moment many eyes are on Tulum, Mexico.
A small Mayan fishing village, Tulum has been known for years for its sugary, picture-perfect beaches, turquoise warm waters of the Caribbean, yoga, ancient Mayan ruins perched high on a cliff and its ecological vibe. Its small beach bungalow-type hotels still use solar panel energy, and often opt for candlelight. The prices used to be low, and regular clientele included hippies and backpackers.
Then the situation started changing, and the change has been the most obvious in the past few years. Following the trend in the Riviera Maya region, where small fishing villages, such as Cancun and Playa del Carmen have exploded into major international vacation destinations in 15 years, Tulum gas been growing at a rapid pace. Since 2008 Tulum's employment sector more than doubled, and its population tripled since 2000. The state is building a rail network, and development is visible in each sector: hotels, restaurants, tourism, and luxury developments.
The good news for the lovers of Tulum's tranquil, mesmerizing atmosphere is that its eco-vibe remains undestroyed. The clientele is the one that has been changing, and now includes Hollywood stars and celebrities, such as Demi Moore, Heidi Klum and Jude Law. Little beachfront hotels started remodeling and their prices started rising every season. Luxury boutique hotels, such as Be Tulum, elevated the level of accommodation available. Gourmet restaurants, such as Hartwood, Simple or Casa Banana started popping up and drawing lines of eco-chic tourists, mostly New Yorkers, every evening.
Despite the change, the biggest part of land around Tulum remains underdeveloped, though "for sale" signs are visible left and right. There are bigger developments, such as Aldea Zama, which plans to create its own town center with a brand new pedestrian street lined with restaurants and shops, similar to the 5th Avenue in Playa del Carmen, a golf course and various facilities.
However, those who are looking for bigger value in their real estate purchase and willing to remain independent from big developers, are buying land outside of Aldea Zama or similar developments, which is usually also much cheaper. Certainly, there are also options of huge beachfront lots ideal for hotel or condominium development that count their price in millions, but Tulum offers opportunities for all kinds of budgets. For example, a 30 x 10m piece of land, located 10 minutes away from the beach, can be purchased for $40K USD. The price of constructing a 2-story house with a pool and rooftop would make the cost of the whole project (including land) about $250K USD.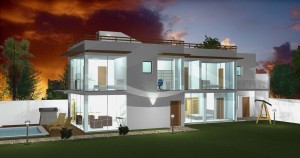 There are companies, often also run by foreigners who live in Tulum, such as Riviera Maya Property Consultants that offer complete services for land buyers: secure land purchase for the best market value, architectural design, construction and property management, which is quite important if the property is meant as an investment that would bring profits every year. On average, the value of real estate has an increase of about 7-8 percent per year, and these figures may more than double for investments right on the coast. If a property is rented, an annual income would average around 10 percent from renting alone.
Lured by the opportunities of the newly found investment paradise, Tulum is flocked by Italians, Americans, Argentineans and other international and Mexican investors. Southern Europe is still grappling with the crisis, and the US is not really able to provide with similar opportunities of value growth in real estate. It's natural that many turn to an emerging-economy country, such as Mexico, especially because the lifestyle that Tulum offers is hard to beat—who would not want to make a valuable investment in a place of stunning nature, perfect weather and close proximity to the US?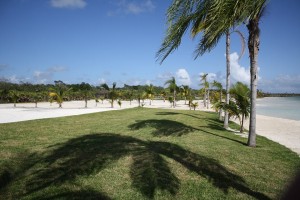 Regulations for Foreigners to Buy Beachfront Land in Mexico
Any foreigner buying land in Mexico within 50 km (32 miles) from the coastline and 100 km (64 miles) from the international border uses the means of a bank trust (fideicomiso) or they may buy property by establishing a Mexican corporation.
A fideicomiso is a real estate trust where the bank (trustee) holds the trust deed for the purchaser (beneficiary). The bank acts as the Trustee, and the client is the Beneficiary of the trust, maintaining complete control over it, and may sell, lease, mortgage, and pass the property on to his/her heirs. The trust is the beneficiary's property.
A trust is granted for a 50-year period, renewable at any time (for another 50-year period) by submitting an application to the bank. If the 50-year period expires without renewal, the owner has another 10 years in which he may submit an application to renew the trust.
Moreover, the bank trust requirement (Article 27) is currently being reviewed by the Mexican government, and in April of 2013 Congress' lower house voted to loosen the restrictions on foreigners buying lands within restricted zones. The measure passed 356-119 and now only needs approval from the Senate and a majority of the country's 32 state legislatures to become law.