350 Kilometres of Steel and Rubber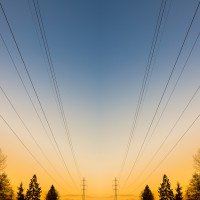 Northwest Transmission Line
By Peter Clausi
The best mining story in the world right now is not a mine. It's not a new find setting off a staking rush. Barrick Gold hasn't patched up its differences with Newmont Mining, and there's still no sign of Michael de Guzman. The best mining story in the world is 350 kilometres of steel and rubber, the Northwest Transmission Line (aka: NTL).
The map at right traces the NTL's route. Start at Skeena Substation, a hard-to-find spot roughly 300 kilometres southeast of Stuart, BC. Then meander more or less northward along Highway 37, leaning a bit to the west, ending around Bob Quinn Lake. To get an idea of how far north this, it starts north of the 54th meridian and finishes just 420 kilometres south of the Yukon border. At a cost of at least $700,000,000 (yes, 700 million dollars) to build, the NTL begs the question: why? NTL_project_map
Mining
The NTL was announced in 2008 by then-premier Gordon Campbell who said, "The electrification of Highway 37 is an important part of the ongoing economic diversification of rural British Columbia," said Premier Campbell. "It builds on the success we're already seeing in the Northwest, including the new container port in Prince Rupert, the resurgence of the mining industry and the potential new Alcan smelter. We're making the investments needed now to continue that growth and help communities seize opportunities to diversify and create jobs."
An operational target date of May, 2014 was set, with BC Hydro overseeing the project. When various First Nations signed on and environmental assessments were completed, the project juggernauted its way to completion, and surprisingly for a government project was completed only one month behind the original target date.
BC Hydro deserves much credit for its management of an extremely difficult construction project, up and over and through some of Canada's most inhospitable land. From BC Hydro's website in June, 2014: "The construction of the Northwest Transmission Line has been an absolutely phenomenal engineering exercise, in extremely rugged terrain," said Lesley Wood, BC Hydro's stakeholder relations and communications lead. "There's a lot of new right of way that had to be cleared through very difficult-to-access areas. And we had to do an awful lot of work by helicopter in order to install the structures and the lines."

With the NTL now in operation, stringers will be run from the main line to First Nations communities and to industry. This infrastructure will improve the standard of living in the remote north and will power large projects: "Between the NTL, the Forrest Kerr power project, Red Chris Mine and the Kitimat Modernization Project, there's $5 billion worth of work going on in this area," says NTL construction manager Tony Mullin.
The Mining Association of British Columbia saw the economic potential early on and was hugely supportive of the NTL. "Report on the Electrification of the Highway 37 Corridor", supported by the MABC and found here, held that, "The transmission line will create substantive employment during the construction phase, support the investment of an estimated $15 billion in new capital investment, create an estimated 10,000 full time jobs, and generate $300 million per year in tax revenue, while saving 3.7 million tonnes of CO2 annually, or the equivalent of taking 629,000 automobiles off the road." If those numbers are accurate, the economic payback, even at a construction cost of over $700 million, will be quickly realized.
The importance of the NTL is very clear to the miners. Imperial Metals Corporation is the owner of the Red Chris mine in north BC, which despite recent negative news related to its failed tailings pond, is a massive deposit of copper, gold and silver with enormous economic potential. Imperial Metals is working towards the development of an open pit mine with a mill production rate of 30 000 tonnes of ore per day, over a projected mine life of 28 years. The latest Measured and Indicated Resource at Red Chris is 8.89 billion lbs copper, 12.90 million oz gold, and 44.61 million oz silver.
As early as February, 2011, Imperial Metals President Brian Kynoch was quoted in a press release as saying, "The power line represents an outstanding economic opportunity for the northwest region, and for Imperial, provides an energy solution for our Red Chris mine."
This page from Imperial Metals' website provides an overview of the Red Chris construction. The first two paragraphs don't discuss copper circuits or electrical progress or financing – they discuss how and when Red Chris will tie into the NTL.
Pretium Resources Inc. owns the high-grade gold opportunity at Brucejack in north BC, one of the largest and highest-grading undeveloped gold projects in the world. A feasibility study completed in June 2014 outlined Proven and Probable mineral reserves in Brucejack's Valley of the Kings of 6.9 million ounces of gold (13.6 million tonnes grading 15.7 grams per tonne gold).  Pretium is advancing Brucejack to production as a 2,700 tonnes per day underground mine. That will take a lot of power.
Pretium first mentioned the NTL in a October, 2011 press release. As Michelle Romero of Pretium recently added, "The NTL will make a big difference for the citizens of northwest BC, and for the mining projects which will in turn be providing jobs and opportunities there."
Then we have Copper Fox Metals Inc., a 25% joint venture partner with Teck Resources Limited at Schaft Creek in north BC. Schaft Creek's January, 2013 feasibility study shows 5.6 billion pounds of copper. That study speaks of the need for additional infrastructure at Schaft Creek including, "a power supply and distribution network", and expressly refers to the NTL as the solution: "The mine site will obtain its power supply from BC Hydro by constructing a private 95 km, 287 kV transmission line from the mine site to the forthcoming BC Hydro Bob Quinn Substation."
Copper Fox's Chief Executive Officer is Elmer Stewart. His opinion counts – he has a Masters Degree in Geology and over 32 years experience in mining and exploration. Mr. Stewart has been involved in putting five mines into production, and so he's familiar with risk, capital and the cost of power. His take on the NTL is, "The completion of the NTL provides the single most important portion of the infrastructure required for business development in northern British Columbia. This line will not only benefit business development but would be the catalyst to long term job creation and prosperity."
Infrastructure matters to a mine. The cost of infrastructure can determine whether a feasibility study is bankable. It can be the difference between cash flow positive and a dead project. Even the NI 43-101 report mandates disclosure of infrastructure. Item 5 in the mandatory Form 43-101 F1 requires disclosure of "…the availability and sources of power…".
The ongoing discourse over how to best mine the $60 billion Ring of Fire in northern Ontario is the most obvious but not only example of this. Investors shy away from mining opportunities in parts of Africa due in part to a lack of infrastructure.
The Oyu Tolgoi project in Mongolia was too much even for Ivanhoe Mines, finally giving way to global miner Rio Tinto in 2012. It takes a company the size of Rio Tinto (66,000 employees in more than 40 countries across six continents) to take on a project of this magnitude. According to The Financial Post: "It was largely about money. Ivanhoe needed billions of dollars of capital over the next several years to bring Oyu Tolgoi to full production; the estimated capital cost of the project is US$13.2-billion, including US$6-billion to first production."
On the NTL map, there are 11 gray triangles on the map, including Schaft Creek and Red Chris. These represent potential future mines, more or less tracking along the NTL's path or accessible by stringer (as described by Copper Fox in its feasibility study). This means miners in northern BC now have a taxpayer-supported competitive advantage. Cost of power will fall, meaning less capital has to be raised and less cash directed towards repaying debt. As these mines develop and areas of economic activity grow, smaller miners will be able to leverage the infrastructure laid by the larger companies to reduce their exploration risk. The result is jobs, economic expansion, engaged First Nations communities, a broader tax base, and wins for shareholders. Indisputably the trickle-down economic effect of mining will create secondary industries to support the miners, with the result being further economic growth for BC and Canada.
And that's why the Northwest Transmission Line is the best mining story in the world.