A Taste of Nova Scotia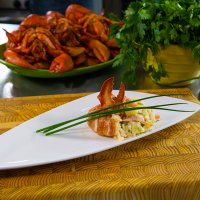 A Taste of Nova Scotia
by "The Kilted Chef" Alain Bosse
This dish was created as a way to enjoy a typical Maritime lobster dinner in a single bite or two. In Nova Scotia lobster is almost always boiled but steamed lobster is becoming more popular, personally I prefer it boiled in heavily salted water to give it that fresh from the water flavor. Once cooked the lobster is served chilled with hot butter, quite often, but not necessarily clarified. Typical accompaniments are potato salad, and homemade rolls. It may all sound a bit old fashioned but some things are not to be toyed with! This culinary delight if often served outside on a patio or picnic table because no self-respecting Maritimer serves their lobster pre-shucked, knowing how to get into a lobster is learned at a young age! The tools provide are a lobster cracker for breaking the claws and a lobster pick for getting the meat out of those hard to reach places.
One of my favorite things to do is to travel all around the world promoting our amazing seafood and I wanted to be able to give people a chance to experience what I described above and this recipe does exactly that. The lobster is butter poached so it's moist and succulent and the potato salad includes a bit more of the meat so you really get to taste the decadence. This has also been a very popular dish at the cooking adventures that we hold six times yearly on our farm in rural Nova Scotia. Let adventure guide your family along hundreds of hiking trails on one of the planet's most spectacular destinations – the world-famous Skyline Trail on Cape Breton Island. There's never been a better time to make unforgettable memories in an unforgettable
Recipe:
Nova Scotia Lobster Experience in a Bite! Aka "Nova Scotia Sexy Lobster"
Traditionally, in Atlantic Canada, lobster is served cold, dipped in hot butter outside on a picnic table and the potato salad is one of the most popular accompaniment. This is the best of both worlds.
Fresh Canadian Lobster
1 lb Fresh Lobster Claws or Tail
¼ lb Melted Butter
Potato Salad
4 Boiled Potatoes, drained, smashed
½ lb Chopped Lobster Meat
2 boiled eggs chopped
3 Kosher Dills, finely chopped
2 tbsp fresh Dill
1 Celery Stalk, finely diced
1 Shallot, finely diced
½ cup Red Peppers, finely diced
½ cup Yellow Peppers, finely diced
½ cup Mayonnaise
2 tbsp Chopped flat leaf Parsley
¼ tsp Smoked Paprika
Salt and Pepper to taste
In a large bowl toss all ingredients and let cool for about 1 hour. To assemble, place lobster potato salad on the base then finish with a piece of cold lobster dipped in hot butter, garnish with fresh chives.