Cassandra Tondro – Green Art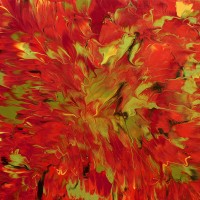 Green Art – Art with a Conscience
 by Cassandra Tondro
Cassandra Tondro is an artist who is well‐known for her innovative use of leftover house paint to create contemporary abstract paintings. Tondro rescues paint from local recycling centers that would otherwise go to waste and be disposed of.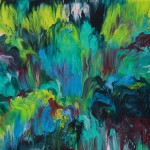 By visiting these outlets regularly, she has assembled a palette filled with unusual colours. She enjoys the challenge of working with the colours that she finds, rather than colours of her choice. Once a colour is gone, it is unlikely that she will find the exact same colour again. House paint comes in a variety of finishes—including flat, satin, semi‐gloss and eggshell—that add depth and texture to the surface of her paintings.
Tondro explains that increasing concern about the environment motivated her to explore alternatives to the acrylic paints she had been using for her art. "I discovered leftover house paint, which is available in abundance and would otherwise go to waste. The concept of using discarded materials intrigued me. I had never worked with latex paint before and I had to develop new techniques and styles, but now I prefer it over the traditional paints used for fine art."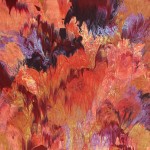 The US Environmental Protection Agency estimates that between 35 and 103 million gallons of post‐ consumer architectural paint is disposed of in the United States each year. By repurposing discarded house paint for her art, Tondro is helping to reduce this waste.
Tondro has developed several methods of working with the paint, including pouring, pulling, pressing and dripping it onto canvas. While the paint is wet, she often uses tools, washes of water, or her fingers to create imagery. The paint dries slowly, and in the process of drying, serendipitous things sometimes occur, such as bubbles that pop to reveal another colour below.
About her work, Tondro says, "I like it when my paintings appear to have come together effortlessly, as if created by serendipity. It's not always easy to achieve that spontaneous effect!"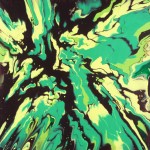 Due to her mastery of the materials, Tondro makes painting look like child's play, but she's making educated decisions each step of the way about colour placement, the layering of colours, and the viscosity of the paints. Her paintings involve an expert eye for colour, knowledge about the properties of the paints, and control over the process. It takes strength and dexterity, as the full cans of paint and the wet‐paint-laden canvases are heavy.
Tondro's paintings have been featured in solo and group exhibitions throughout the United States and abroad, and her work is in numerous public, corporate and private collections. In addition, her work was selected for the American Embassy in Yaounde, Cameroon, in conjunction with the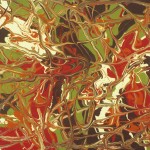 Art in Embassies Program, sponsored by the U.S. Department of State. She also conducts latex paint reuse workshops at local festivals and events to educate people about reusing and recycling waste materials.
Tondro's eco‐friendly paintings create a stunning focal point for contemporary interiors, and the green materials complement sustainable design. Her paintings can be applied toward LEED credits, for those seeking green certification.
You can see more of Tondro's extraordinary green art on her website, www.tondro.com.