Hong Kong and Sichuan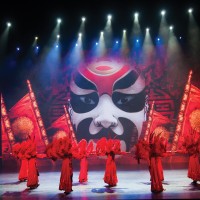 Hong Kong and Sichuan – Culinary and Sightseeing Delights
Photos by Connie Ekelund
(See three slideshows at bottom of page)
When we visited Hong Kong six years ago, we enjoyed the city tremendously. So, when the opportunity arouse for a return, we were most enthusiastic. We anticipated significant changes as during that time Hong Kong has grown at a rapid rate. It has become one of the top financial centres in the world, plus, with its seven seven million citizens, one of the world's most vertical cities. The change in Kowloon East is likely the most significant, with the relocation of the international airport to Chek Lap Kok and much of the manufacturing business having moved to mainland China. The area is being transformed into the central business district of Hong Kong, with developers creating new office and retail buildings, and transforming the old into a dynamic and very colourful area where restaurants are plentiful.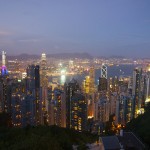 The 359-room Crown Plaza, opened in the area in the fall of 2012, provided us with quality accommodation. Naturally, being a new property, it boasts all the latest amenities and as a result was awarded the Best New Hotel in Hong Kong by the TTG China Travel Awards 2013.
Getting around Hong Kong is remarkably easy. Some ninety percent of local daily trips are conducted on the extensive and inexpensive public transit system. The excellent underground system has high capacity, amazing coverage, easily understood signage and, of course, interconnects well with the ferry and bus systems.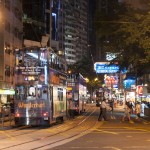 With the vast majority of residences being of modest size, residents tend to have their meals in local restaurants, which as a
result are bountiful. Quality is not hard to find and a trip to Hong Kong can easily turn into a gourmet's delight. It would not be far off the mark to suggest Hong Kong is Asia's gourmet capital. One Hong Kong resident suggested that if the quality isn't there, a new restaurant fails within a month of opening.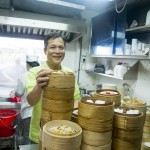 Tim Ho Wan, serving extraordinary dim sum, is the least expensive Michelin-starred restaurant in the world. Founded by an ex-Four Seasons chef who wanted to keep pricing in the realm of local people, it now boasts a half-dozen locations. The one we visited can seat 110 and normally feeds 1,500 a day. There was a lot of luggage at the door, meaning people were making this their first or last visit on their trip to Hong Kong.
Two-Michelin-starred "Demon Chef" Alvin Leung has opened MC Kitchen. The food is a fusion of Japanese, French and Italian styles, incorporating molecular cuisine elements. The menu is remarkably eclectic. One foie gras dish incorporated wine made from roses.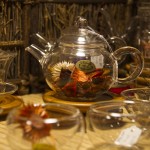 Wandering the Sham Shui Po area will ensure seeing numerous stores with a range of spices and other food products likely new to your experience. As the Chinese are quite used to natural remedies, the product line incorporates spices, plants and animals not found in a typical western grocery store. We came back with a bag of spices which have certainly added a new zest to our preparations.
Hong Kong is, of course, known for its markets, but the transition in Kowloon East is bringing a new style. There is a new shopping centre with the name APM, implying a combination of am and pm. The stores are open until midnight, the restaurants until two in the morning, and the night spots until dawn.
In amongst the old industrial buildings can be found creative new shops such as the Leather Workshop founded by Manho and Angus, who had such a passion for leather they wanted to teach everyone how to make their own leather goods. We made a business card holder in a short visit. Most customers return a number of times as they make gifts for family and friends. Of course, there are numerous galleries and other specialty stores founded by those with a similar passion in specific areas.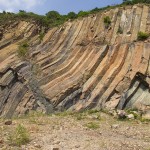 Hong Kong is not just a big city full of tall buildings, there are green spaces as well. One that's truly remarkable is the Hong Kong Geopark of China, which was recognized by UNESCO in 2009. It's a remarkable fifty square kilometers and home to volcanic rock matched only by Yellowstone in the U.S., meaning this part of Hong Kong was created by one of the largest volcanos. There is lots of green space as well as a large lake created by a dam built to provide drinking water for the city.
We were also able to visit the Hong Kong Heritage Museum. We were particularly taken with the Cantonese Opera exhibits and historic artwork. However, Bruce Lee fans will be more interested in the hall hosting his memorabilia of some 600 pieces. The exhibit marks the 40th anniversary of his death in 2013 and is expected to be hosted for five years.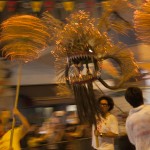 As luck would have it, our trip coincided with the Mid-Autumn Festival, an ancient Chinese festival for farmers to thank the moon god for bountiful crops. There are numerous events throughout the city during the weeklong event, probably the most spectacular being the march of the fiery dragon. This dragon was 70 metres long and studded with thousands of incense sticks. Hundreds of participants take turns hoisting the dragon to their shoulders as it moves down the street with throngs of spectators on both sides. Make sure to try the Moon Cakes which are traditional with the festival.
Another new property we would recommend was the recently opened Hotel Indigo. This is a very modern property with all the amenities and quality staff. It is situated in the very historic Queens Road East area. Here can be found many historic buildings which were once the focus of the city. Plus, it's near LockCha, a tea shop like no other. The Chinese are known for their love of teas and this shop has a remarkable selection and its staff the knowledge to explain the attributes of each strain both in terms of taste and well-being.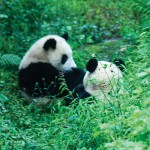 From Hong Kong we flew to Chengdu, capital of the Chinese province of Sichuan. The city is home to 14 million citizens and our first experience in modern Mainland China. This is a very modern city with a very modern road and public transit system, which surprisingly, considering its size, appeared to be congestion-free. Further, every international name brand seems to have a retail presence. But, most importantly, the city is the centre of China's burgeoning IT industry. At least 30 Fortune 500 companies have operations here.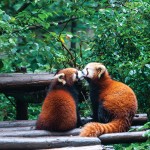 However, the city is likely best known as being home to the Chengdu Research Base of Giant Panda Breeding. The research centre, founded in 1987, is non-profit and since its inception has been able to rear 97 Giant Pandas. The facility is open to the public and is much like a public park situated on over 100 hectares. These rolling green hills include a lake and footpaths which make for a great stroll while providing access to the Panda nurseries both Giant and Red.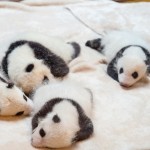 It is truly a treat to be able to wander by grassy enclosures and watch Giant Pandas go about their day. Then head to the nursery where newborns are being tended to. Seeing a half-dozen very young Giant Pandas being nursed and groomed is hard to match.
Sichuan is known as the province of abundance, partially due to the Dujiangyan Irrigation Project, a UNESCO World Heritage site, dating from 256 BC, near to Chengdu. Rather than constructing a dam, a levee was built to redirect spring flood waters to a dry plain, creating the most bountiful agricultural area in China.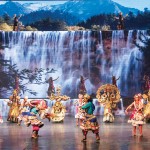 We were able to see a Tianfu Shu Yun theatrical performance celebrating the abundance of Sichuan at a new Chengdu theatre. It was a truly remarkable performance on the part of hundreds of performers who had to be supported by even far greater numbers of backstage personnel. They performed traditional dances, which were incredibly athletically demanding, in traditional costumes, all accompanied by lush video. Even the stage was a performer as it was comprised of three different sections which could rise and lower while carrying performers. At one point, one of the performers actually appeared immediately in front of me and, while looking directly at me, his mask completely changed every few seconds, creating a new persona each time. This performance was the calibre of a Broadway show, having Cirque du Solei performers with the all the glitz and glamour of Las Vegas.
Our home in Chengdu was the Wang Jang Hotel, a modern five-star property with all the amenities and an attentive staff. During our stay in Chengdu we were most impressed with the overall quality of all the establishments we frequented. This city has much to be proud of.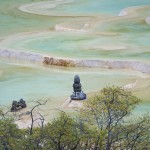 Sichuan is also home to Jiuzhaigou Valley, literally "Nine Village Valley," named for the nine Tibetan villages along its length. This national park is a UNESCO World Heritage Site, set high in the mountains, with heights ranging from 2,000 to 4,500 metres. It is home to spectacular multi-level waterfalls and colourful lakes and Huang Long, which attracts some 10,000 tourists a day.
A cable car will take you to the top of the scenic spot and from there boardwalks guide visitors past a terrain that can only be described as unique. The geological formations make for very unusual looking pools of iridescent water leading to falls which cascade down the mountain.
These boardwalks are at very high elevation and so those visiting have to take it easy as they wind their way down the mountain. It's not unusual for one to feel uncomfortable as a result of the height and possibly require a rest and some oxygen. But, the views are well worth the effort.
Our accommodation was the nearby New Jiu Zhai Hotel, a comfortable property with good dining. In the evening, at the local cultural theatre, we were able enjoy a performance reflecting the local Tibetan and Qing cultures. Again, the performing dancers were most athletic and we enjoyed the singing and dancing. The only peculiarity was the locals' habit of climbing on stage to place a scarf around a singer's neck to demonstrate their appreciation during the performance.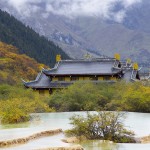 This trip to China has opened our eyes to the notion of more trips to the mainland. It's a big country with an amazing number of people who share a very old and rich culture. As the country grows to command an impressive spot on the world stage, it is also encouraging tourism. To my surprise, the customs inspector who looked over my passport with the required visa inside, was to be immediately rated by those entering the country as to his efficiency. There were a series of electronic buttons available on the kiosk he stood in to be selected and pushed indicating the incoming visitor's satisfaction with the process.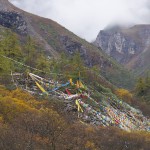 The travel industry in China is developed and your local travel agent can easily access putting a custom trip together on your behalf. There is an amazing amount to see and do and one trip just won't do it. Further, the Hong Kong Airport provides excellent connections to China and is of course in Hong Kong: a great city to rest and overcome jet lag. The airport itself is one of the busiest in the world. It also has some the most extensive shopping and restaurant facilities of any airport in the world. There is even a golf course!
Press On Images to Advance Slideshow
Hong Kong
Chengdu
Tibet